Pavanputra- Lord Hanuman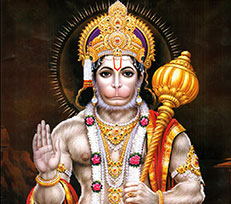 Lord Hanuman is a symbol of power and divinity. He was one of the protagonists in Ramayana and has been known as a parambhakt or devotee of Lord Rama. He is usually iconized as standing still with a gaja in his hand or folded hands worshipping Lord Rama.
Legends
There are many legends which are associated with the birth of Lord Hanuman. Some say that he was born to an apsara named Anjana, who was cursed and hence stayed on earth in the form of Vanara. She was married to Kesari who was the son of lord Brihaspati. They did not have a child for a long time and hence, prayed to God to bless them with a child. They underwent deep penance, pleased with which Lord Shiva gave them the boon of Lord Hanuman as their child. Some even believe that he is a reflected form of Shiva himself. There are still other stories which unfold that he was the son of Vayu and hence has been referred sometimes as the Vayuputra. In fact, the flying skills of Lord Hanuman are attributed to the fact that he is the son of lord Vayu. It is said that once in childhood days, Lord Hanuman was really hungry and hence he swallowed the entire sun thinking that it was some kind of fruit. Since, then he has been worshipped as the God of power. In Ramayana, it was Hanuman who went to bring back Goddess Sita from the clasp of the demon Ravana. He is also mentioned to have carried the heavy mountain of jadibuti in order to protect Lakshmana from injuries. He was a staunch devotee of Lord Rama and it is said that they resided in his heart which is also portrayed in many of his idols. Once, Lord Hanuman asked Goddess Sita as to why she put Sindoor in her head. She explained that the Sindoor was the symbol of long life of Lord Rama and by doing shringara daily, she was helping in increasing the lifespan of the Lord Rama, upon hearing this lord hanuman went back and poured all the sindoor all over his body in order to increase the lifespan of the Lord. This is the very reason why we offer sindoor to Lord Hanuman while worshipping. People worship him to seek strength to undertake all challenges of life. Reciting Hanuman chalisa is considered to be very auspicious and praying on Tuesdays which is the day of Lord Hanuman is also considered very sacred
Significant temples
There are various temples dedicated to Lord Hanuman. One of the biggest and most famous temple is Hanumangadhi which is located in ayodhya. This is a very pious place and attracts tourists from far and wide. Other noteworthy temples are Balaji Hanuman temple and salasar temple in Rajasthan, ChitrakutSankatmochan temple in Benaras, Uttar Pradesh, Kumbhkonam temple in Tamil Nadu, MahavirHanuman temple in patna, Bihar, Sri Hanuman temple in Jamnagar and Kashtbhajan Hanuman temple in Sarangpur, both located in Gujarat.
Significant pujas
The most significant puja offered to Lord Hanuman is Hanuman jayanti which is chanted with Hanuman chalisa